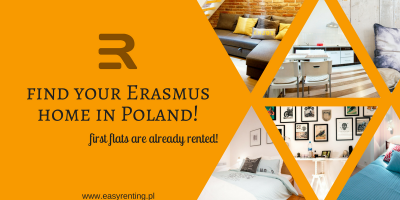 ERASMUS YEAR 2021-2022 IS COMING!
Dear Students, we're very glad to inform you that we're opening reservation system for new semester from NOW. We have prepared for you over 100  apartments in Warsaw and around 150 apartments in Cracow. Furthermore we're working on opening our office in Wroclaw!
Remember, the sooner you look for a flat, the more offers are available. Book it now and don't you worry anymore for the accommodation during your Erasmus Program.
Don't hesitate to conact us at erasmus@easyrenting.pl